Make use of these resources, whether you're visiting our eclectic town or have decided to make Seligman home.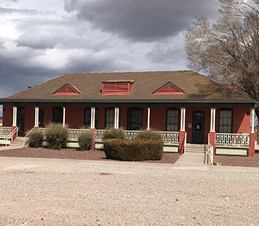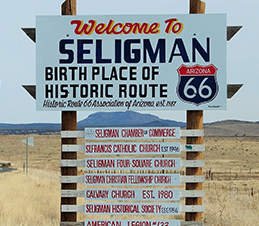 Founded in 1895, Seligman, Arizona, boasts a history to match the colorful sunsets of the desert southwest. Situated in the middle of cattle country among the beautiful Upland Mountains, Seligman was originally established as a railroad camp to bring valuable communication and transportation lines to the West. During the late 1920s, historic Route 66 created an "American Main Street" through the middle of our town and added yet another chapter to our eclectic history. Instrumental in this legendary route's revival, today Seligman proudly displays the flavors of our past while embracing the changes necessary to our future.
We invite you to get to know our town a little better and discover what treasures may be hiding around the next bend.
In Seligman, there's never a shortage of things to do. Please visit our Seligman Chamber of Commerce website for more information about various city businesses and resources.
Grand Canyon: A powerful look into our recent and ancient past, the Grand Canyon will inspire and overwhelm you with its immense size. Over 250 miles long and up to a mile deep, this amazing national park is open year round.
Grand Canyon Caverns: Our 800 acres of dry caverns are located just west of Seligman off historic Route 66. The only accessible caves in the Grand Canyon, our caverns and surrounding area offer you a breath of fresh air, clear skies, and open prairies to delight your senses.
Annual Events: In addition to our local attractions, we have amazing annual events. See the list below.
March: Predator Hunt

April: Rt. 66 Fun Run

May: Brothers of the Third Wheel Trike Rally

July: Seligman Days

August: Chicken Fry