Seligman School will provide a quality education that encourages every student to realize his/her fullest potential and to help build real life skills with the relationship of our students, parents, staff, and community.
Established: 1914
Serving: Grades K–12
Motto: Caring, Respect, Responsibility
Mascot: Antelopes
Colors: Black, White, Red
Population: 150
Student-Teacher Ratio: 10:1
Schedule: 8:00 a.m.–4:00 p.m.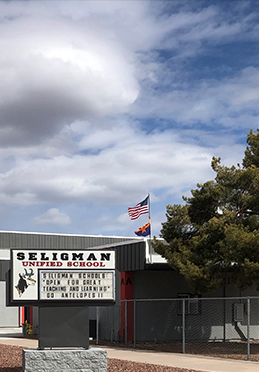 Seligman Unified School District has been preparing students for life success since 1914. At Seligman, we believe schools are an integral part of the community and should be for children. It is our job to provide a safe place for our children to grow academically and socially, nurturing their dreams, and encouraging them to reach their full potential. We believe that teaching children how to learn is more important than dictating to them what they should know.
To learn more about what each of our schools can offer your family, please visit our elementary and high school pages. We're excited to share our accomplishments with you and invite you to contact us with your feedback and support.
We believe:
Parents, teachers, administrators, staff, the governing board, and the community share the responsibility for the support of the school mission statement.

A safe and physically-comfortable environment promotes student learning.

Students learn in different ways.

Developing appropriate learning activities enhances learning at all levels.

Instructional practices should incorporate emotional, social, and physical skills.

Students learn to make appropriate decisions given a supportive learning environment.

Student performance increases with challenging expectations.
We know that educating students to reach their full potential takes varied approaches to meet the needs of their varied strengths and weaknesses. That's why we're so pleased to be able to offer our families small class sizes and individualized instruction.
Our elementary and middle school program focuses on laying a strong foundation in reading and mathematics that will carry our students throughout the upper grades. We also encourage our students to think creatively, develop personal responsibility, and learn to communicate effectively. At Seligman Elementary, your children will have opportunity to participate in:
Regular core curriculum classes

All-day kindergarten

DIEBELS literacy technology

Physical education

Art

After-school STEM instruction
Our high school programs build on the foundations our students received in elementary school and works towards mastery in all core subjects. We also focus on developing citizenship, decision making and problem solving skills, and preparing for college/career. At Seligman High School, your children will have the opportunity to participate in:
Core curriculum classes

Athletics

Before/After-school clubs

Physical education

Art

FFA

Student council

Agricultural education

JTED