MIDDLE SCHOOL SPORTS A BIG SHOUT out to our MS girls volleyball team on Friday, they played well and our B team beat Parks. There were some great games for both A and B teams!! Thanks to our students and staff who helped out at the games, I appreciate it..Mrs Curley Saturday APril 1, the Volleyball team travels to Parks game times start at 10am, SUPPORT YOUR TEAMS!! HIGH SCHOOL SPORTS: JV baseball game today @ Ash Fork-3pm vs Northland prep-Good Luck!! Varsity Baseball travels to Phx for a baseball tournament in PHX starting on Thursday. Good Luck!!
Literacy week starts Monday March 27-30th. We will be holding our annual book fair all week! Family Literacy Night will be Wed. 03-29-23 from 4pm-6pm. Join us for family games and activities. During this time we will have our book fair open as well for parents to be able to come in and purchase items as well.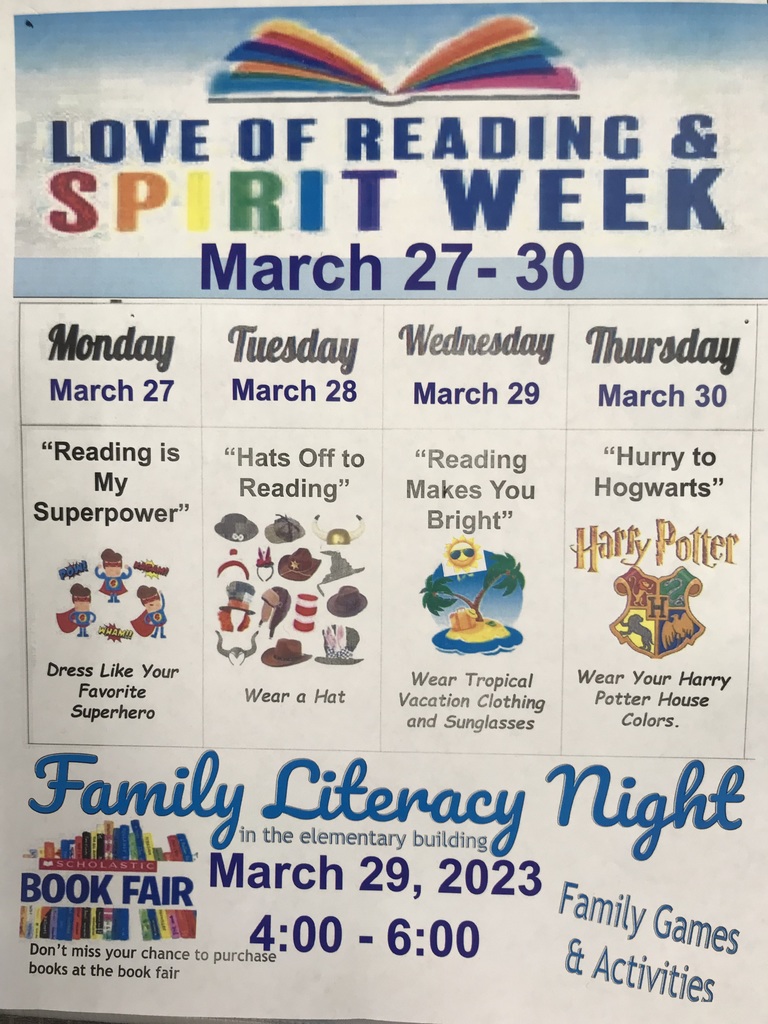 Good Afternoon Parents, Our Little Caesars Pizza fundraiser due date has been extended. If your child still has not turned in an order form please do so by 03-30-2023. If you would like to order and do not have a form please stop in the office. Thank you!
Parents just a reminder, tomorrow (03-21-2023) will be early dismissal. Students will get out at 1:35pm. Busses will all run 2 hours early. Have a great night!
Welcome back Antelopes ! Seligman will host the Middle school volleyball games on Friday March 24 vs Parks and AshFork starting at 8am. Support your ANTELOPES Baseball games at Ashfork on Wednesday vs Desert Christian @3pm pending weather If you turned in your permission slip for weight lifting it starts today after school with Coach Ravi. We need line judges for Fridays volleyball games if interested please see Mrs Curley this afternoon.Great time to earn community service hours
Please join us tomorrow (03-09-2023) evening at 6pm in the High School Cafeteria for our Mr. and Mrs. Seligman Pageant!
Parents just a reminder, all Spring and Senior Picture Packets are due to the school tomorrow, March 8th. Pictures may be purchased online as well!
Great Job 2nd and 3 Graders Just to be sure you know--the 2nd and 3rd grade classes were rewarded with a pizza party for turning in the most permission slips during our recent Dental Clinic. North Country Dental Clinic will be providing the Pizza from the Road Runner Restaurant on Thursday.
Great Job Seligman Staff!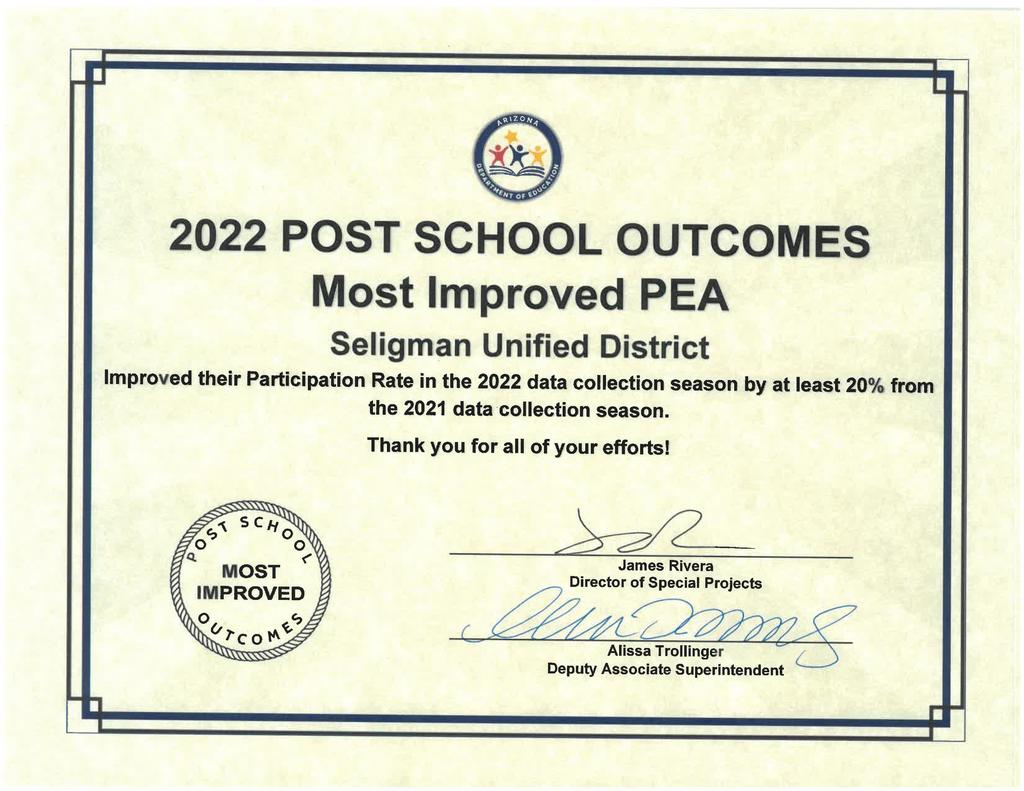 Attention parents, the Jr. High and High School sports awards and dinner banquet will be held Tomorrow, March 7th in the cafeteria at 6pm for the following sports: Middle School boys and girls basketball teams, Middle School Cheer, High School girls and boys basketball teams! The coaches will honor all the teams and managers at this time. If you had students play any of these sports please join us for dinner and to celebrate our student athletes. Have a wonderful night!
Athletic Annoucments Middle school volleyball at Ash Fork on Saturday March 11, 2023-Game times 8am/9am with more game times to follow Softball on Tuesday-Varsity only-1/3pm @ Ash Fork.vs Rock Point Softball/ Baseball -JV only -@ Ash fork @ 1/3PM VS Bagad, Sports award dinner on Tuesday, March 7th @ 6pm in the cafeteria. PLayers please plan to attend this event. There will be a weightlifting meeting in the Transition Room tomorrow at 3:15 on Monday. Thank you
We will be having Friday School tomorrow from 9-12:00 pm
Good Afternoon Parents, Due to road closures and the incoming storms we will be cancelling school tomorrow (03-02-2023) as well. Have a good night!
Thank you community for attending last night's 100 day celebration. Great job to all staff and special thanks to the cooks!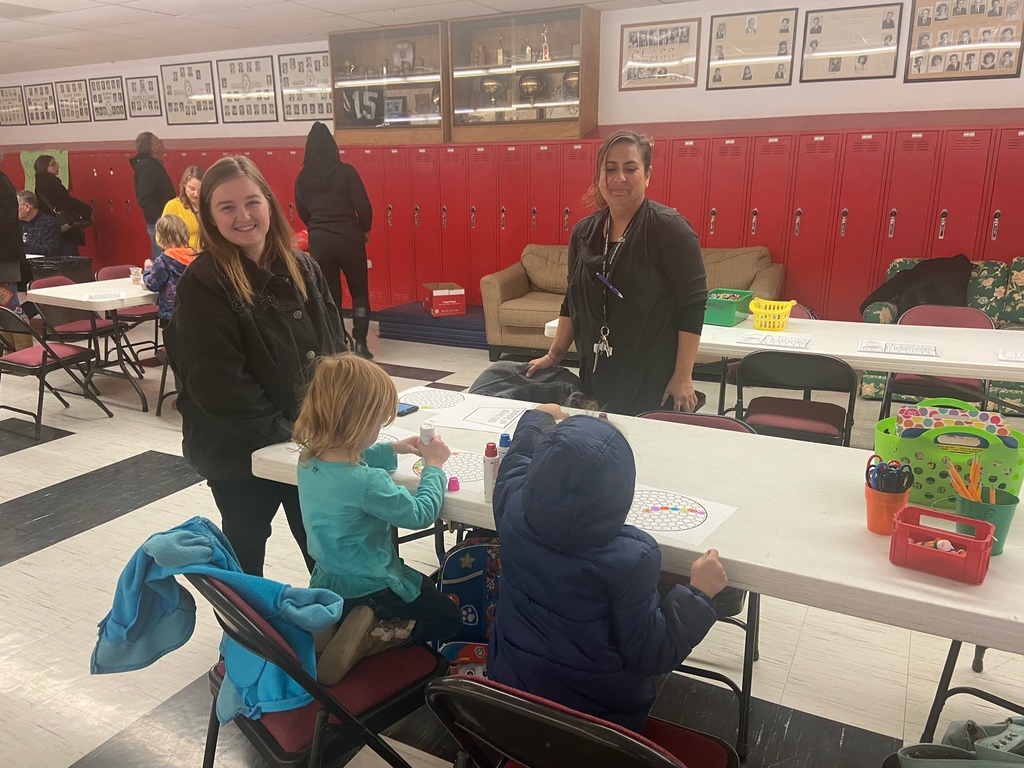 Good Morning Parents, Sorry for the late notice, we will be canceling school due incoming weather and our busing not being able to make it out to our stops safely. Have a good day!
Due to Inclement weather and road conditions-school will be closed today.
Parents, Just a reminder, Spring picture packets are to be turned into the office by Thursday, March 2nd. If you would like to order online the orders are due by Friday, March 3rd. Pictures will still be available online after those dates, but there may be a late fee charge added.
SELIGMAN HIGH SCHOOL ITINERARY ( BASEBALL) DATE OF EVENT: March Fri-3-Sat-4, 2023 SPORT: Varsity baseball tournament LOCATION: Laughlin NV Motel: Days Inn 1126 Az-95, BHC-86429 AD:Sonny Martin BUS DRIVER:Ash Fork MEALS:per diem for meals -5 meals-Pick up your money in the office(Ashley) on Thursday before YOU leave to JTED. DEPARTURE TIME FROM SELIGMAN: 8:30am from A&W RETURN TIME: Saturday- depends on win/loss record -Ask Coach Martin to drop you off in Seligman? Cyrus Labaco Patrick Dumford Joanne Curley-Athletic Director-928-607-3437 GOOD LUCK!!!!
DATE OF EVENT: Saturday , March 4, 2023 SPORT: I-40 League Volleyball GAME TIMES: B-Team 10AM -A Team-11am ( 5 games) LOCATION: Williams high school AD: Phillip Echeverria-928-814-6190 Coach(s): Venice Fraser-928-430-8575 BUS DRIVER: Kelly Clark-605-569-0849 MEALS: Please provide money or pack a lunch for your child. Please provide snacks, water, sports drinks for your child. Concessions will be available. It will be a long day. DEPARTURE TIME: 8AM the bus leaves the school, stopping at the Chevron on the way out. RETURN TIME: 4:30/5:00 pm INFORMATION: Be on time to pick up your child when they return to Seligman. If you are running late notify the coach. MS GIRLS Volleyball Maddie Trice Desiree Coffin-Mgr Jade Heptner Bella Garcia Alyssa Montana Jackie Manakaja Haileigh Solberg Jaleigha Russell Shelly Watahomigie Elsie Allen Mahlee Tsosie Anna Rosenkrauch Shania Walema Alyssa Coffin Joanne Curley Athletic Director 928-607-3437 GO FIGHT WIN ANTELOPES!
Winter Storm Warning for Seligman- Please monitor website for possible closures WednesdaySnow showers, mainly before 5pm. The snow could be heavy at times. Patchy blowing snow before 10am, then areas of blowing snow after 4pm. High near 36. Breezy, with a south wind 21 to 26 mph, with gusts as high as 41 mph. Chance of precipitation is 100%. New snow accumulation of 3 to 5 inches possible. Wednesday NightA 50 percent chance of snow showers, mainly before 11pm. The snow could be heavy at times. Mostly cloudy, with a low around 17. Southwest wind 6 to 13 mph, with gusts as high as 21 mph. New snow accumulation of 2 to 4 inches possible.