Just a reminder that tomorrow night we will be hosting our 100th day of school celebration in the high school lounge from 5pm-7pm. Come out and participate in crafts and activities with your students. The cafeteria will be serving a free chili dinner with salad and bread from 5-6pm. We hope to see you there.
Due to Inclement weather No Friday School this week
SPIRIT Club is hosting a fundraiser. If you are interested in purchasing any pizzas, breadsticks or cookies that are easy to put together for a quick dinner after a long day please contact Meghan Dumford or come into the office and check out a catalog! Thank you for your support!!
Good Afternoon Parents, Due to road closures and winter storms, we will be cancelling school tomorrow as well. Have a good weekend and we will see you on Monday!
No school today due to inclement weather-All afterschool activities cancelled.
Congratulations to our middle school boys basketball teams on a great season and to our cheerleaders for your great cheering. There will be Middle school girls volleyball practice today after school..see Mrs Fraser for more information. Today at 3pm in rom 200, Coach Ravi will have a weightlifting / athletic training meeting for any high school girls or boy interested in participating . On March 7th we will have the sports awards dinner for all the basketball teams and cheerleaders. More. Details to follow
No Friday School this week-Enjoy your weekend!
DATE OF EVENT: Friday February 17, 2023 SPORT: I-40 League Basketball & Cheer GAME TIMES: A-Team 9AM (see tournament bracket) LOCATION: Ash Fork HS 46999 N 5 th St, Ash Fork AZ 86320 CONTACT: Sonny Martin 928-637-2561 MS athletic director BUS DRIVER: Meghan Dumford 928-925-0913 MEALS: Please provide money or pack a lunch for your child. Please provide snacks, water, sports drinks for your child. Concessions will be available. DEPARTURE TIME: 7AM the bus leaves the school, stopping at I40 Chevron on the way out. RETURN TIME: Dependent on tournament play – call parents when leaving Ash Fork INFORMATION: Masks are not mandated. Be on time to pick up your child when they return to Seligman. If you are running late notify the coach. MS GIRLS CHEER MS BOYS' BASKETBALL Bella Garcia Lucas Leist Elsie Allen Stonewall Allen Rylee Cossey Jacob Cossey Destinee Trice Mason Krauch Katara Lowry Asthon Fabisiak Mahlee Tsosie Vincent Heptner Donna Petrequin Carter Coffin Phoenix Burley Gabriel Alvarado Anna Rosenkrauch Ryen Campbell Shania Walema Dallas Perez Alyssa Coffin Briel Alvarado (mgr) Maddie Trice Jade Heptner Coach: Jolene Leist Haileigh Solberg Bekka Dumford Coaches: Mandi Fenton & Patricia Cossey
Due to road conditions, Seligman Schools will be closed today. Please travel safe.
2 hour delay tomorrow based on the following information WINTER STORM WARNING REMAINS IN EFFECT FROM 6 AM THIS MORNING TO 6 AM MST WEDNESDAY... * WHAT...Heavy snow expected. Snow showers this morning will increase and become heavy this afternoon and tonight. Total snow accumulations of 2 to 6 inches below 6000 feet, with 6 to 12 inches above 6000 feet. Locally higher amounts up to 18 inches over the highest terrain. Winds gusting as high as 50 mph. * WHERE...Areas near Doney Park, Flagstaff, Fredonia, Jacob Lake, Prescott, Prescott Valley, Sedona, Seligman, Valle and Williams. * WHEN...From 6 AM this morning to 6 AM MST Wednesday. * IMPACTS...Travel could be very difficult to impossible. Blowing snow will significantly reduce visibility. Hazardous conditions will impact the Tuesday evening commute. Gusty winds could bring down tree branches. Snow forecast from 6 AM Today to 6 AM Wednesday: Doney Park 6 to 10 inches Flagstaff 9 to 15 inches Fredonia 1 to 3 inches Jacob Lake 11 to 17 inches Prescott 3 to 5 inches Prescott Valley 1 to 3 inches Sedona 1 to 3 inches Seligman 2 to 4 inches Valle 4 to 6 inches Williams 8 to 12 inches
Weather report next 24 hrs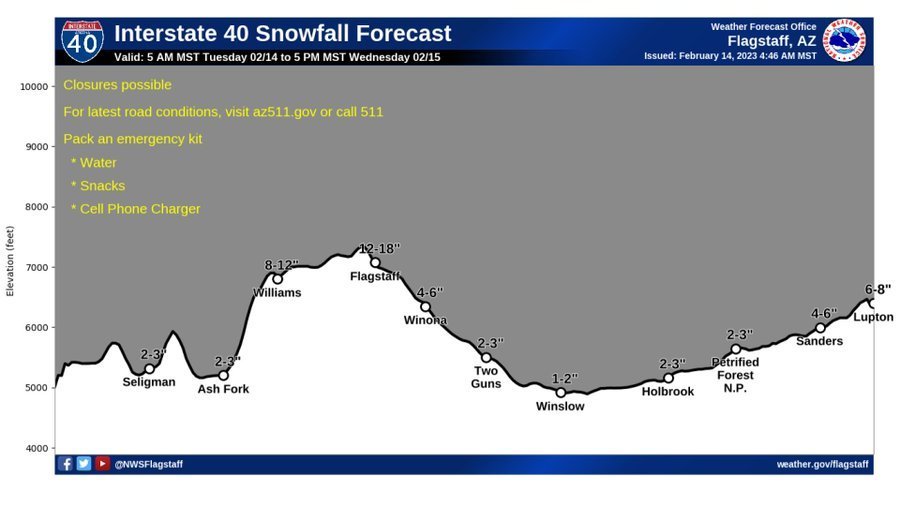 Happy Valentine's Day to community members, staff and students from the adminstration

Attention families, The North Country HealthCare Dental Screening is next week on Tuesday, February 21st. Permission slips were sent out yesterday and must be returned by Thursday February 16th. Please check your Student's backpack for the permission slip. Please pay close attention to fill out both pages of the permission slip.The dental screening cannot take place without your signature on the second page of the form. Thank you Donna McAtee RN Seligman School Nurse
Reminder-Friday School this week k-12 from 9-12:00 pm
SELIGMAN MIDDLE SCHOOL ITINERARY Date of Event: Saturday, February 11, 2023 Sport: I-40 League - Basketball & Cheer A-Team-8:00am -B team9:00am-11am-12:00 Location: Grand Canyon high school AD: Paige Whitney-928-638-2461x412 Bus driver-Murray Johnson-480-707-8634 MEALS: The school will provide a $14.00 per diem for the students for their meals Please provide snacks/water/gatorade. . DEPARTURE TIME:5:45 am -Concessions will be available-MASKS are not mandated. , PHONE: Students call your parents to let them know when you leave. RETURN time: 3:00-3:30pm PARENTS PLEASE BE ON TIME TO PICK UP YOUR CHILD WHEN THEY RETURN TO SELIGMAN, IF you are Running late (which happens) please Call the coach to let them know. MS Girls Cheer MS BASKETBALL BOYS Bella Garcia Elsie Allen Lucas Leist Rylee Cossey Mason Krauch Destinee Trice Jacob Cossey Katara Lowry Stonewall Alle Mahlee Tsosie Ashton Fabisiak Donna Petrequin Vincent Heptner Phoenix Burley Carter Coffin Anna Rosenkrauch Gabriel Alvarado Shania Walema Ryen Campbell Alyssa Coffin Briel Alvarado Maddie Trice Coach: Joelene Leist Jade Heptner Haileigh Solberg Bekka Dumford Coach's: Mandi Fenton& Patricia Cossey GO FIGHT WIN-GO ANTELOPES Joanne Curley-Athletic Director-928-607-3437
GREAT JOB ANTELOPES, you had a great basketball season this year!! The Middle school BOYS B team won against Ash Fork and our A team lost to them in overtime on Saturday. Good job cheering for our MSBOYS Cheerleaders! MIDDLE SCHOOL BOYS & Cheerleaders travel to Grand Canyon on Saturday, Feb 11th -game time 8am , 9am 11:00am and Noon time. Good Luck The high school boys varsity team will be taking basketball pictures on Thursday at 3pm in the gym. Softball and Baseball players who are getting physicals please turn them into Ashley in the office.
SELIGMANHIGH SCHOOl ITINERARY DATE-Thursday-February 2, 2023 SPORT-1A North Canyon Boys Super Regionals GameTime: vs Rock Point -6pm Location-Rock Point, Az-Hwy 191 Rock Pt-86545 BusDriver-Kelly Clark-928-300-7086 Coach(s)-PerryCurley-928-607-5131-Dion Walker-845-461-3042 Athletic Director-Chris Wilson-602-628-4268 DEPARTURE-10am MEALS-.You will have a per diem of $14.00 for meals. Bring XTRA $$ for snacks/concession stand. Estimate time of return: 1:30am:2:00am PHONE: Students you need to call your parents and let them know when you leave ((AFTER YOU EAT) so they will be on time to pick you up at the school. PARENTS PLEASE BE ON TIME TO PICK UP YOUR CHILD WHEN THEY RETURN TO SELIGMAN, IF YOU ARE RUNNING LATE (WHICH HAPPENS) PLEASE CALL the COACH TO LET them know. Your parents need to text, call, write a note to your coach(s) if you are leaving with your parent(s) after the games,unless the parent is at the game and they tell the coach(s). Basketball Adrian Torres Dalton Marshall Edmundo Marrietta Scenadha Tomlinson Tyler Cossey-Mgr Arnell Powskey,Jr Cyrus Labaco Montoya Marshall Montae Walker Andrei Caddo Joanne Curley-Athletic Director-928-607-3437 Carmello Manakaja There is NO "I" in T E A M W O R K! Peter Petrequin GOOD LUCK ANTELOPES -B E L I E V E!!
If you are planning on playing baseball or softball with Ash Fork, and you do not have a physical you will not be able to practice. Practice starts on Feb 8th. Sign up with MRs Curley if you are going to play.
Friday School Tomorrow from 9-12 for all K-12 Students
Good Afternoon Parents, Just a reminder please keep your student home if they are experiencing any symptoms of RSV. If you have any questions please don't hesitate to give us a call at the School. Also her is a link with some helpful information on RSV. Have a good night!
https://www.cdc.gov/rsv/about/transmission.html